Functional Snack
Biscal Series --reducing fecal and urine odors--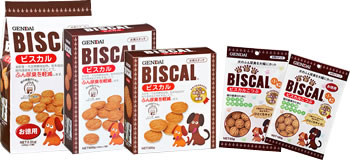 BISCAL is a tasty dog snack that uses a blend of all-natural odor-reducing ingredients to reduce the odor of pet waste. Biscuits consist of rice germ, fermented soy extract and tree extract that help reducing fecal and urine odors. The ingredient called fermented polysaccharide normalizes intestinal flora and controls the generation of bad odor.
>> more infomation about BISCAL !
>> see the BISCAL line-up
Sorbitz Series --allargen-free snack for dog--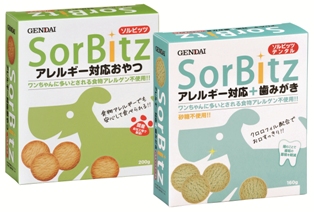 SorBitz is a doggie snack for all dogs in allergenic trouble. It's made from special ingredients without main allergens for dogs; beef, milk, wheat, egg, chicken, soybean, corn, rice, and mutton. So, you can enjoy a comunication with your dogs not caring food allergies. The main ingredient is a noteworthy white sorghum, that doesn't contain the protein gluten assumed to be an allergic cause. It has been used as a substitutional food of wheat.
>> more infomation about SorBitz !
>> see the SorBitz line-up